先日、表紙だけ貼り付けた、クレオン・スクーセンの『世界の歴史を金で動かす男たち』(成甲書房)が出ていたので、早速読みました。
太田龍氏のかかわった著作はいつも巻末に太田氏の解説がありますが、こちらはいつも意味不明なので読み飛ばします。太田氏の本ではなく、翻訳物だから買ったというわけなので・・。もう少し、判りやすく書いてくれれば良いのでしょうが、彼自身の頭の中だけで話が繋がっているという感じです。(ただ、あとがきで引用されていた、E・C・クヌースの『シティーの帝国』の中に、中国・清国におけるイギリスのカウンターパーツ=植民地総督 vice-loy が、あの李鴻章であったという事実は、驚くとともに、やっぱり、と思わされました)
太田氏や成甲書房といった出版社が、アメリカのアイソレーショニスト(対義語が、国際主義者とかグローバリスト)の著作群を紹介してくれていることは非常に有意義だと思います。
さて、この『世界の全てを~』は、原題はThe Naked Capitalist(裸の資本主義者)といいます。
ひと言でいえば、この本の大半は、「スーパー・グローバリスト」で、クリントン大統領の先生(メンター)であった、キャロル・クイグリー氏(1910-1977)の1300頁もある著作『悲劇と希望』(Tragedy & Hope)の中から重要な部分を引用して、それをアイソレーショニスト(反国際主義者、アメリカ国内問題優先主義者)の視点から解説するというものです。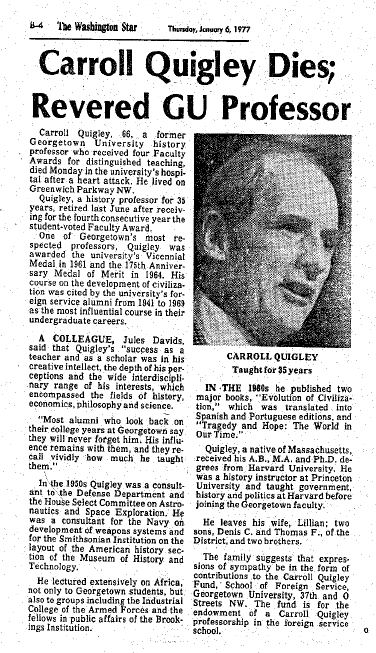 これまでそういう類の著作はけっこう出ているのですが、私がこのクイグリーに注目したのは、彼自身が「グローバル・エスタブリッシュメント」の一員であるという立場であるということであり、彼自身は秘密の暴露をしているが、それはあくまで肯定的な立場で行っていると言うことです。
インナーサークルの中からの直接の内部告発を訊くことが一番重要なのではないか、と思うわけですな。似たようなケースでは、FDR大統領の娘婿の出した本もありましたし、最近書店で並んでいる、タウンゼントの『アメリカはアジアに介入するな』(芙蓉出版)もその類いでしょう。
私としては、これらの「出来うる限り信頼できそうな資料」を活用しながら、大きな絵を描いていくだけです。
スクーセンは、ジョージ・ワシントン大学を卒業した後、エドガー・フーバー長官の秘書官などを務めた後、ソルトレーク警察署長を務めたそうです。(モルモン教徒か?)
やはりこの人の言う、「世界社会主義」「世界集産主義」という言葉は太田龍氏も使っているもので、いまだに今ひとつ意味がわからないのですが、本書では、クイグリー博士の著作から引用が多数行われていますので、そっちの方は、陰謀論のジャーゴンにとらわれておらず、判りやすく書かれています。
クイグリー氏の著作は、セシル・ローズの流れを汲んだ「円卓会議」の誕生以来の北米・イギリスの「インナーサークル」がどのようにして形成されてきたか、ということを暴露しているものです。クイグリー氏の著作は1966年に発売されたものです。本書の「はしがき」には現在入手不可能ということですが、実際には
アマゾン
で普通に購入できます。
イギリスの植民大臣、セシル・ローズは、その遺志を継いだ、「ローズ奨学金」が有名ですが、ローズと密接な関係にあった、ジョン・ラスキンの名前や、ラスキンの遺志を継いだ人物の名前は知られていません。ラスキンは、一種のエリート主義者で、哲人(ワイズメン)によって、世界の秩序を作ればいいと考えていた人です。
あのアーノルド・トインビーもまた、オックスフォード大学のラスキン一派の中にいたとクイグリーは書いております。また、その中には南アフリカ総督兼高等弁務官であった、アルフレッド・ミルナーというのが居て、この人物が大西洋をまたぐインナーサークルの片割れである、チャタム・ハウス(王立国際問題研究所)を設立したそうです。このチャタム・ハウスの設立には、当時の「ロンドン・タイムズ」を所有していた、アスター家が出資していたと言うことです。
このチャタム・ハウスの米国版が例のCFRです。太平洋における、CFR・チャタムウスのアフィリエートが、太平洋問題調査会(IPR)という組織です。戦後は、これが三極委員会やビルダーバーグになって拡大しているのであろうと思います。
取りあえず、スクーセンの本の中で引用されていた部分だけでは不十分なので、クイグリーの著作を海外から取り寄せて検討してみようと思います。
一番判らないのは、エスタブリッシュメントたちが、なぜソビエト共産主義と中国共産党を支援していたのか、という部分です。ビジネスと割り切っていたから、というようにも思いますが、それだけでは説明が付かないようにも思えます。
でも、それというのは、アメリカが反民主主義の牙城のような、サウジを支援してきたということを考えればさほど奇異ではないかも知れません。彼らにとって、全ての国際政治のプレイヤーは、「ポウン」に過ぎないとい考えないと説明が付かないことがしばしばあります。
現在の大西洋同盟、とりわけ米英の結合を示す、インナーサークルとしては、The British-American Project for the Successor Generation(BAP)があります。このサークルは、ガーディアンという英国左翼紙で去年取り上げられました。この組織と似たようなネットワークを日本に作ろうとしているのが、国際大学(新潟県)の元学長の、ジョージ・パッカードだというのですから、びっくりたまげましたねえ。
Packard mentions one in passing: "In 2000, I started an exact clone of BAP: the US-Japan leadership project."
http://spinwatch.server101.com/modules.php?name=News&file=article&sid=264
=====
(引用開始)
Tragedy and Hope: A History of the World in Our Time - $39.95
Liberal university college professor Carroll Quigley praises the efforts of "an international Anglophile network" whose goal is to rule the world. He boasts of having been permitted "to examine its papers and secret records," and confirms the existence of an over-arching conspiracy, and details the origin and eventual power of the CFR and allied groups. (1997 ed, 1348pp, hb) Order Book Review
BOOK REVIEW
Reprinted with permission from The New American magazine, September 7, 1992
Tragedy and Hope: A History of the World in Our Time, by Carroll Quigley, New York: MacMillan, 1966, 1,348 pages, hardbound.
During his speech accepting the Democratic nomination for president on July 16th, Arkansas Governor Bill Clinton paid tribute to the late Georgetown history professor Dr. Carroll Quigley, whom Clinton credits with helping to form his political outlook. "As a teenager I heard John Kennedy's summons to citizenship," Clinton reminisced. "And then, as a student at Georgetown, I heard that call clarified by a professor I had named Carroll Quigley, who said America was the greatest country in the history of the world because our people have always believed in two great ideas: first, that tomorrow can be better than today, and second, that each of us has a personal, moral responsibility to make it so."
Bill Clinton was a Rhodes Scholar and is a member of the Council on Foreign Relations (CFR). Both credentials take on special meaning in light of his obvious admiration for Dr. Quigley. For it was the professor who, in his 1,348 page work Tragedy and Hope: A History of the Word in Our Time, lauded most of the goals, and the conspiratorial brilliance, of the drive for world government in which both the Rhodes Scholarships and the CFR have played important roles.
The Professors
Prior to his years at Georgetown University's Foreign Service School, Quigley taught at Princeton and Harvard and lectured on Russian history at the Industrial College of the Armed Forces, and on Africa at the Brookings Institution. In Tragedy and Hope, he described the growth of the banking industry and the influence of powerful international financiers whose far-reaching aims included "nothing less than to create a world system of financial control in private hands able to dominate the political system of each country and the economy of the world as a whole." He also noted the influence which another professor, at another university, had on another student anxious to shape the course of world events.
"Until 1870," Quigley wrote, "there was no professorship of fine arts at Oxford [University in England], but in that year ... John Ruskin was named to such a chair. He hit Oxford like an earthquake...." Author Kenneth Clark, in his 1964 book Ruskin Today, stated that Ruskin "saw that the state must take control of the means of production and distribution, and organize them for the good of the community as a whole; but he was prepared to place the control of the state in the hands of a single man."
Quigley noted that Ruskin "spoke to the Oxford undergraduates as members of the privileged, ruling class," telling them that "they were the possessors of a magnificent tradition of education, beauty, rule of law, freedom, decency, and self-discipline, but that this tradition could not be saved, and did not deserve to be saved, unless it could be extended to the lower classes in England itself and to the non-English masses throughout the world."
The Rhodes Conspiracy
Quigley asserted that "Ruskin's message had a sensational impact. His inaugural lecture was copied out in longhand by one undergraduate, Cecil Rhodes, who kept it with him for thirty years," during which time he became wealthy by exploiting the diamond and gold fields of South Africa, eventually becoming prime minister of the Cape Colony. Cecil Rhodes, Quigley noted, "contributed money to political parties, controlled parliamentary seats both in England and in South Africa," and otherwise used his wealth and political acumen to help fashion events according to Professor Ruskin's blueprint. A world government, run by men of Rhodes's calibre, was the goal, and for "this purpose Rhodes left part of his great fortune to found the Rhodes Scholarships at Oxford in to spread the English ruling class tradition through the English-speaking world as Ruskin had wanted."
On February 5, 1891, Cecil Rhodes and England's most sensational journalist, William T. Stead, formed a secret society of which Rhodes had been dreaming for 16 years. Quigley described it in Tragedy and Hope, how it was organized, and who governed it. Typical of secret societies, there were circles within circles, including "an outer circle known as the 'Association of Helpers'...."
Lord Milner, another of Ruskin's trusted disciples at Oxford, was the chief Rhodes Trustee. As governor-general and high commissioner of South Africa in the period 1897-1905, he "recruited a group of young men ... to assist him in organizing his administration. Through his influence these men were able to win influential posts in government and international finance and became the dominant influence in British imperial and foreign affairs up to 1939." In the period 1909-13 "they organized semi-secret groups, known as Round Table Groups, in the chief British dependencies and the United States." Quigley noted that the American branch of the Round Table Groups is "sometimes called the 'Eastern Establishment'" and has "played a very significant role in the history of the United States in the last generation."
One of the organizers of the Round Table Groups, which were to serve as "semi-secret discussion and lobbying groups," was a gentleman named Lionel Curtis. Money for the organizational work "came originally from the Rhodes Trust." At the end of World War I, "it became clear that the organization of this system had to be greatly extended. Once again the task was entrusted to Lionel Curtis who established, in England and each dominion, a front organization to the existing local Round Table Group." This "front organization, called the Royal Institute of International Affairs, had as its nucleus in each area the existing submerged Round Table Group. In New York it was known as the Council on Foreign Relations...."
Institute Of Pacific Relations
Quigley asserted that after "1925 a somewhat similar structure of organizations, known as the Institute of Pacific Relations, was set up in twelve countries holding territory in the Pacific area, the units in each British dominion existing on an interlocking basis with the Round Table Group and the Royal Institute of International Affairs in the same country."
Quigley described how the IPR was funded by the Carnegie Foundation, Rockefeller Foundation, and sundry "firms closely allied to these two Wall Street interests .... "In addition, each year's deficits "were picked up by financial angels, almost all with close Wall Street connections." According to Quigley, "Clearly there were some Communists, even party members, involved...." Moreover, there "can be little doubt that the more academic members of IPR, the professors and publicists who became members of its governing board ... and the administrative staff ... developed an IPR party line. It is, furthermore, fairly clear that this IPR line had many points in common both with the Kremlin's party line on the Far East and with the State Department's policy line in the same area." But Quigley nevertheless concluded that "there is no evidence of which I am aware of any explicit plot or conspiracy to direct American policy in a direction favorable either to the Soviet Union or to international Communism."
Quigley gave short shrift to the exhaustive investigation of the IPR conducted in the early 1950s by the Senate Internal Security Subcommittee chaired by Senator Pat McCarran (D-NV). Understandably, he failed to cite any of subcommittee's 32 conclusions, which refute his implication that nothing conspiratorial was transpiring within the ranks of the IPR. Among other things, the bipartisan subcommittee concluded:
• "The IPR has been considered by the American Communist Party and by Soviet officials as an instrument of Communist policy, propaganda and military intelligence."
• "Members of the small core of officials and staff members who controlled the IPR were either Communist or proCommunist."
• "During the period 1945-49, persons associated with the Institute of Pacific Relations were instrumental in keeping United States policy on a course favorable to Communist objectives in China."
• "Persons associated with the IPR were influential in giving United States far eastern policy a direction that furthered Communist purposes."
After reviewing the growth and impact of the "anglophile" network of secret Round Table Groups and related organizations, and the extent to which they had been nurtured by the large tax-free foundations, Quigley claimed that it "was this group of people, whose wealth and influence so exceeded their experience and understanding, who provided much of the framework of influence which the Communist sympathizers and fellow travelers took over in the United States in the 1930s. It must be recognized that the power that these energetic Left-wingers exercised was never their own power or Communist power but was ultimately the power of the international financial coterie...."
Regarding that secretive coterie, he claimed that the "relationship between the financial circles of London and those of the eastern United States" reflects
one of the most powerful influences in twentieth-century American and world history. The two ends of this English-speaking axis have sometimes been called, perhaps facetiously, the English and American Establishments. There is, however, a considerable degree of truth behind the joke, a truth which reflects a very real power structure. It is this power structure which the Radical Right in the United States has been attacking for years in the belief that they are attacking the Communists. This is particularly true when these attacks are directed, as they so frequently are, at "Harvard Socialism," or at "Leftwing newspapers" like The New York Times and the Washington Post, or at foundations and their dependent establishments ....
Breaking the Veil of Secrecy
And how did Dr. Quigley personally feel about it all? After attempting to denigrate as a "radical Right fairy tale" the efforts of informed anti-communists who claimed that communist influences helped shape U.S. Far Eastern policy during World War II, he confirmed the longtime existence of an "anglophile network," which, he stated, had "no aversion to cooperating with the Communists, or any other groups, and frequently does so. I know of the operations of this network because I have studied it for twenty years and was permitted for two years, in the early 1960s, to examine its papers and secret records. I have no aversion to it or to most of its aims and have, for much of my life, been close to it and to many of its instruments. I have objected, both in the past and recently, to a few of its policies ... but in general my chief difference of opinion is that it wishes to remain unknown, and I believe its role in history is significant enough to be known."
An influential professor inspired Cecil Rhodes and his associates to spend their lives conspiring for world government. After listening to another influential professor, who had no aversion to most of the aims of the Rhodes intrigue, Bill Clinton became a Rhodes Scholar and joined the CFR. He is now vying for our nation's highest office against an incumbent president who was himself for many years both a member and director of the CFR.
Governor Clinton's nationally-televised reference to Dr. Quigley provides a prime opportunity to, as Dr. Quigley suggested, break the veil of secrecy surrounding what these Round Table Knights have in store for us.
-- ROBERT W. LEE
http://www.aobs-store.com/reviews/tah.htm
(貼り付け終わり)